Blog
Subscribe to posts
We just wanted to send a special thank you to all of our customers!
This past year has proven to be a great garlic season! As the orders came & went, please know that our love and gratitude was sent with each and every package! As we begin a new season, we ask for your good thoughts and wishes for another successful growing season and more, beautiful garlic!
It as been a pleasure to serve you and we look forward to yet another season to come!
Whether you are growing or eating, we hope that our garlic has served you well!
Many blessings to you all,
Red Gate Garlic LLC
P.S. We still have some garlic available via our online store (
www.redgategarlic/online-store
). It is in the early stages of sprouting, but is still good for eating and/or spring planting! And it's half price to boot!
Garlic harvest was completed on July 28th and the crop looks great! We thank Mother Nature for blessing us with optimum growing conditions this year, resulting in some mighty fine garlic bulbs! If the usual hot and dry August weather continues, we should be able to start shipping sometime around Aug 26th. 
Stay tuned...
Garlic scapes are shipping and are going fast - get them before they are gone :-)
Our little helper wants you to know that while he is making sure the garlic has enough water, you
 may start ordering for the 2013 season. Garlic scapes should be available in about a month and garlic should be available in August/September. Order now to reserve the best garlic before it sells out!
Happy first day of Spring! Of course, since we live in Montana, we were lovingly blessed with a another day of Winter yesterday!
Here is some local news coverage - thanks Stacie!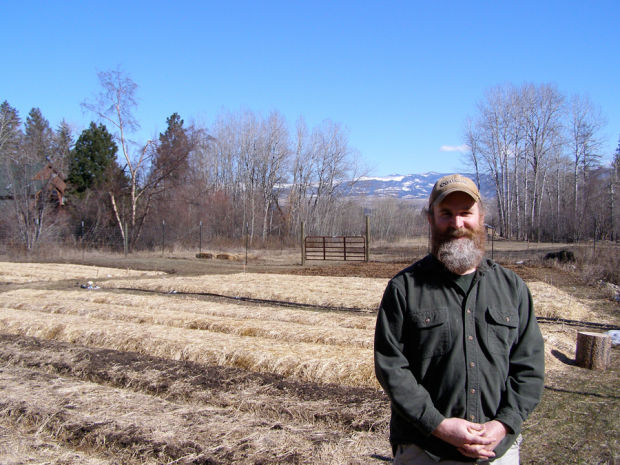 STEVENSVILLE – In a clearing of timber up Bass Creek, Ted Ostheimer and his wife, Shawn, have a quarter-acre of ground reserved for just one crop – garlic.
Last year was their first full season of production and they were more than surprised with the success of their harvest.
"We were able to harvest about 600 pounds of garlic and most of it was sold over the Internet," Ostheimer said.
He shipped gourmet garlic to as far as the Virgin Islands and Maine but most went to the Mid-West. He said a fungus wiped out crops in Minnesota last year and so he sent a large portion of his produce to replenish the seed crop of other growers.
Under the name of "Red Gate Garlic," Ostheimer has found success with six varieties among more than 70 that are available. "German Red" was his most popular followed by "Music" but "Polish Jenn," "Inchelium Red," "Italian Purple" and "Polish Soft Neck" did well both in the Bitterroot soil and among buyers.
He said he gets calls from local neighbors and friends who are more than happy with the flavor and freshness of his garlic compared to grocery store offerings that are most-likely grown in either California or China.
"My cloves are giant," he said, "which means you don't have to peel as many when you cook. Our garlic comes in a cook-friendly size."
With garlic's well-known medicinal value for its antibacterial and antibiotic benefits, Ostheimer said he also sells his crops to those seeking natural remedies. He said a man from Wyoming ordered his garlic online and said "he swears it's curing his wife's skin cancer. He puts slices on her skin and says it works."
For Ostheimer, however, he's more interested in working the ground and becoming an expert in getting his hands dirty.
In his prior career, he was a software developer for 29 years. He and his wife spent the first 10 in Seattle when their children were small but then found a way back home to Montana where he worked remotely.
"We escaped the rat race in Seattle, but even then, it got to be too much, so I decided to dig in the dirt instead," he said.
A friend in Livingston suggested he fill a niche in garlic growing, so he started with a 10-foot patch.
"I found that it was fun and productive and successful right away, not temperamental like a garden can be sometimes," he said. With a high fence to keep the deer out, he said gophers are about the only thing he knows that like garlic, so he keeps them at bay as well. "But my biggest pests are the turkeys. They come in the fall wanting the wheat berries from the straw I put down on the beds."
Ostheimer's garden is tidy with three-foot wide rows that each has three lines of drip irrigation buried under a thick layer of straw.
This time of year, he is fertilizing seedlings planted last fall and taking care of last year's harvested beds. He will rest half his rows from garlic this season and plant a cover crop instead like clover or buckwheat in the summer and a winter rye grass to replenish nutrients.
By June, the garlic will produce a flower stalk called a "scape" that he picks and either sells by the box or uses as compost. The scapes are often used in stir-fry, hummus or pesto. By the end of July, it's time to harvest, cut the stalks and lay them out to dry.
Ostheimer constructed his own tray system with stackable bins consisting of four wooden sides and chicken wire on the bottom. He dusts off chunks of dirt and stacks the garlic two or three deep in each bin to dry. They cure for about a month needing good air flow and a constant temperature of 50 to 60 degrees, which means he sometimes brings them inside on chilly autumn nights.
In September, they clean the garlic, snip the roots and cut stalks down to a half-inch.
"We grade them by size and save the big ones for replanting," he said.
Then, that's about the time mail delivery trucks start coming to his home almost everyday for the next three months to pick up shipments that numbered more than 130 last year.
By mid-October, it's time to compost, till the dirt, plant the garlic and cover with straw and wait for spring.
Ostheimer said that last season's success proved to be a bit overwhelming, so he planted a little less to keep it a one-man operation.
"There were some long, back-breaking days in August and September," he said. "And my wife has a full-time job so I'm going to try and do most of it myself this year."
But that doesn't mean he isn't contemplating a garlic harvest party with friends this fall. "I think we'll try to recruit some help and make it fun – you know, sit around a camp fire and clean garlic together."
In the meantime, he's enjoying the Spring sun and waiting for the first signs of his crop that confirm his new-found love of garlic growing and commitment to sustainable living and natural gardening.
For more information, go to www.redgategarlic.com
http://www.ravallirepublic.com/business/article_f291c28a-8bff-11e2-ab5d-0019bb2963f4.html
You are not supposed to bruise your garlic, but if you do, you may as well have it be shaped like a heart! And no, this was not photo-shopped!